4 Pack: Vegetable Broth 32oz
We created a deliciously simple, high quality vegetable cooking broth made with REAL carrots, onion, leeks, tomatoes, and mushrooms (and savory herbs and spices). Get ready to treat yourself - and whomever you invite to dinner.
Why You'll Love It
Perfect for cooking enthusiasts and 30-minute chefs. Whether you're new to the kitchen or have been using the same recipes for years, you're in for a flavorful treat.

Elevate meatless meals by adding to a wide variety of dishes.

Rich and savory flavor; taste (and feel) the difference our superior, clean-ingredient vegetable cooking broth makes!

Made with minimal, clean ingredients. Low carb, no sugar, only the good stuff.

Quick and convenient 32oz cartons with flip top resealable lids for easy fridge storage.
Nutritional Facts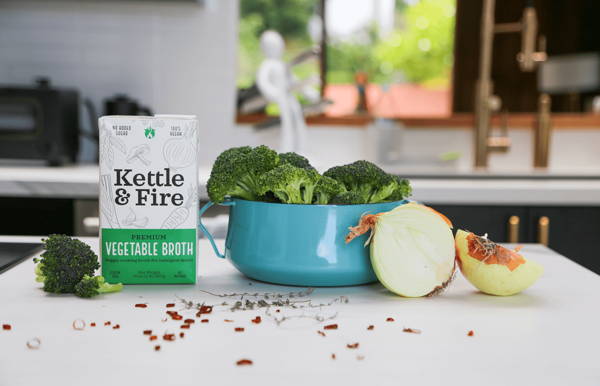 See why customers love our broth
Still the best bone broth out there!

I have tried bone broth from all the stores in this area, Sprouts, Trader Joes, Vons...but Kettle and Fire is the most tasty and has the best protein quantity. So many of these start with the ingredient Beef stock, water. etc...Helps improve skin too...
Beef Bone Broth

Great taste and superior quality make this bone broth my go-to as a compliment to my Keto/Fasting lifestyle.
Soul Soothing Nourishment

All the hype for Bone Broth is absolutely warranted, at least if you're referring to Kettle and Fire. I love having a little sea salt, lemon mixed into an evening cup. Helps me sleep better, and the GI wakes up a little happier in the AM.
It makes me feel great!

Just after 2 days I feel that I have more energy. The lower sodium is best for me. I love this product of Kettle & Fire.
I like this one best of all!

Best beef bone broth around! I like to add sliced fresh mushrooms and a handful of chopped scallions ~ delicious!
Cathleen K.

Verified Buyer

Love Kettle & Fire

Love Kettle & Fire bone broth. I use a lot of broth for gravies, soup, stews and other recipes. Thank you for providing me with bone broth that is extremely healthy.
Save an additional 10% on your first order
How We Made Our Vegetable Broth
Family Farmed Ingredients
We source vegetables and other ingredients from farms with ethical practices, who take pride in what they grow and sell.
Simmering For Best Results
We slow-simmer the ingredients of our vegetable broth to break them down evenly, without burning, and to blend perfectly into the seasoned base.
Good For You— And the Planet
We package our broth hot in a vacuum sealed environment so that it lasts longer and tastes better. The packaging is made of all natural ingredients so it's recyclable.
How People Use Our Veggie Broth
Our broths have inviting, mild flavors making them easier to sip daily or add to your favorite recipes. For enhanced flavor experiences, spice them up to suit your taste buds!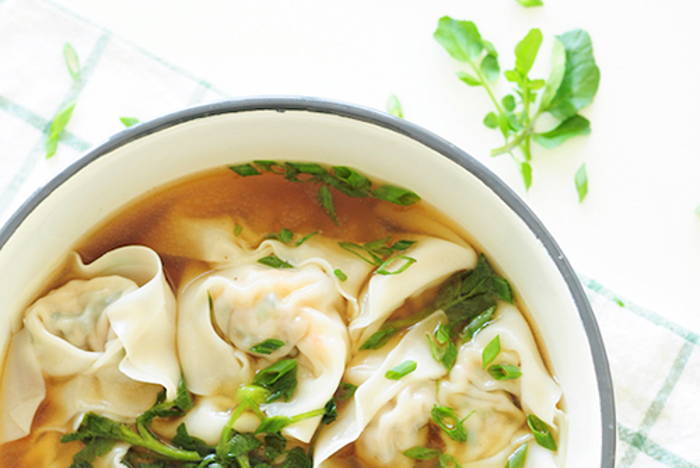 Stir
Pour into any dish that calls for stock, broth, or even water! Elevate every veggie-based meal.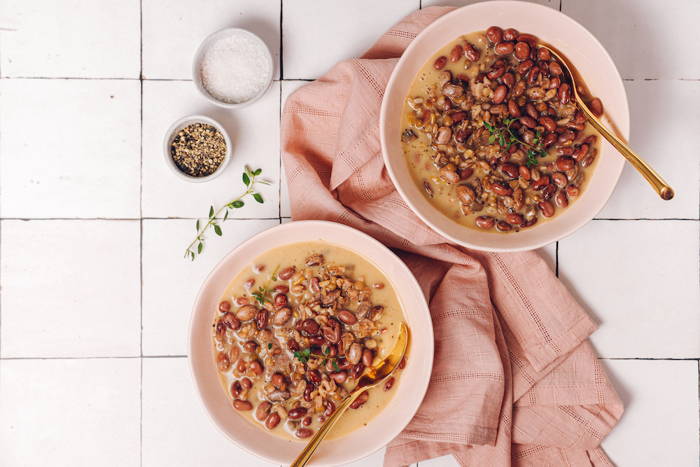 Simmer
Slow-cookers, Instant Pots, and Dutch ovens are the perfect vessels. Just set and forget - and let our veggie broth work its delicious plant-based magic.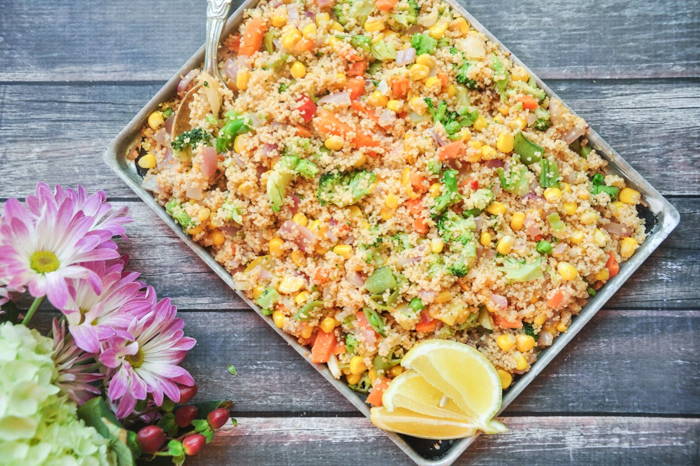 Sit Back
Gone are the days of cooking for hours on end. Faster meal prep - with better ingredients - is here...and all you had to do was lift a finger (to order).
A Natural Source of Antioxidants, Fiber, & Vitamins
We simmer our ingredients for 20+ hours to get the maximum amount of collagen, proteins and amino acids into our tasty broth.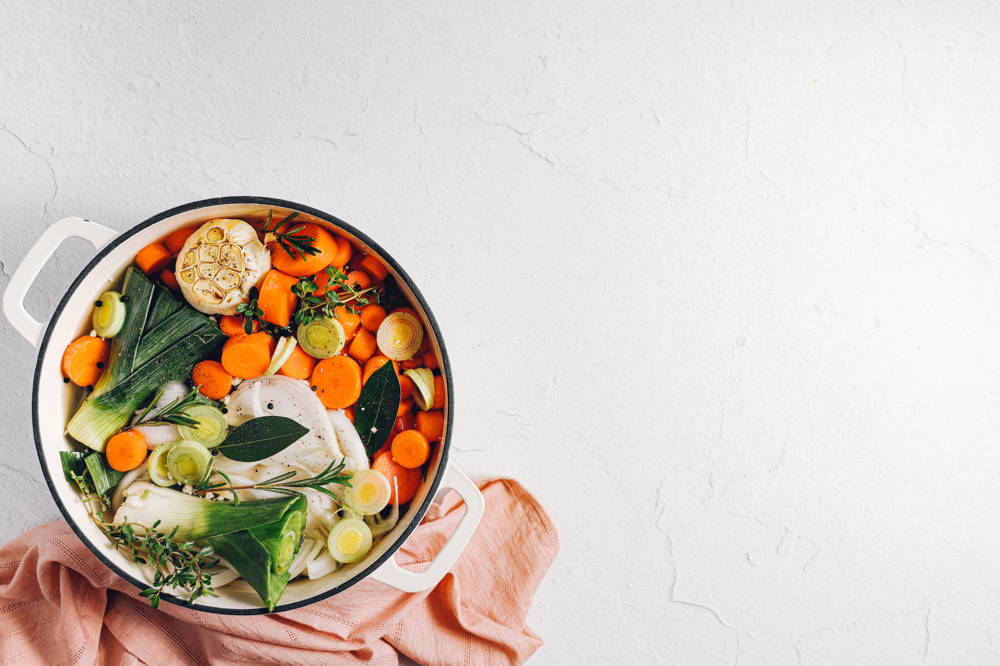 Why Should I Choose Kettle & Fire Veggie Broth?
Other brands skimp on sourcing and simmering quality - ingredients. And we just don't believe in that! Taste the difference in our superior, flavorful, clean-ingredient, veggie broths and give your meals a plant-based power-up.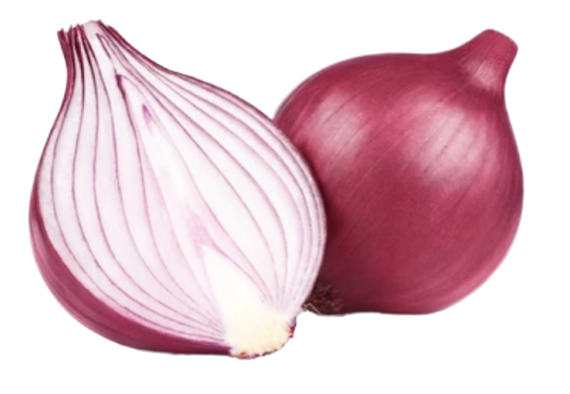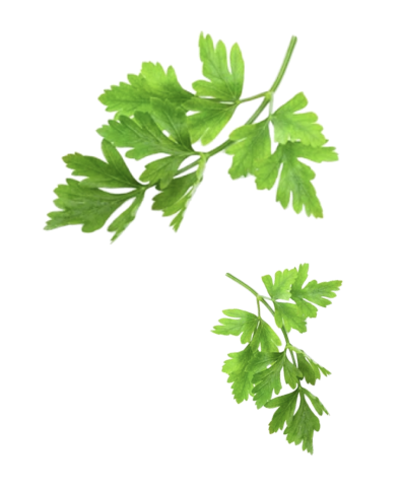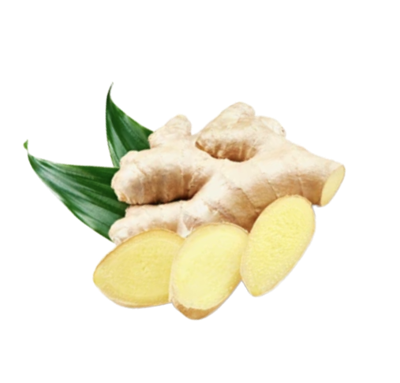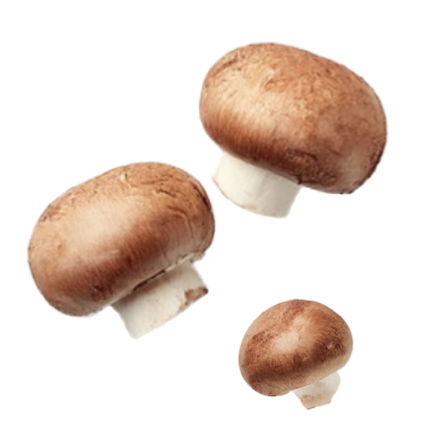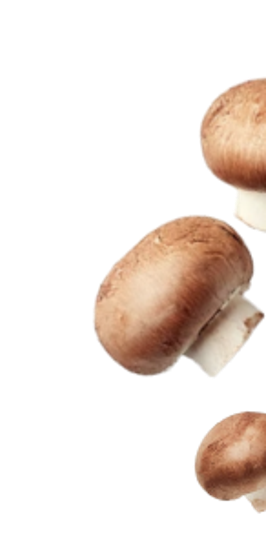 Delicious 4 Pack: Vegetable Broth 32oz
Made with the highest quality ingredients.
Get It Now
We have more delicious options