Kettle & Fire's Loyalty Program
Serving you hot rewards, every time you buy
How To Redeem
If you have at least 100 loyalty points in your account, you can redeem your points for a discount on your next order.
One-Time Orders and NEW Subscriptions Sign-Ups
Redeeming your loyalty points is easy!
Make sure you are logged into your account.
Add the items you wish to purchase to your cart.
You'll have the option to select your reward at checkout via our dropdown menu.
Once you make your selection, click Apply* for your discount.
*No code needed!
Subscription Renewal Orders
Applying points on upcoming subscription order has a few easy steps. Plus, you can make your redemption right here!
First, make sure you are logged into your account.
Choose your reward by clicking Redeem.
Once you've redeemed your reward, you will be given a reward code.
Copy your code and go to your Account Portal, then click on Manage Subscription.
Under your Order Total, you'll find Have a Discount Code. Please click this link.
A discount code bar will appear for you to paste your code, then click Apply*.
*Once applied, you will see your new order total with the savings!
Here's why a subscription might be right for you :
Subscribers are 3x more likely to stick to their health goals.

Subscribers earn 2x Loyalty Points on every subscription sign-up and renewal order

Subscribers receive a special 20% discount + other VIP perks.
Subscribe & Double Your Loyalty Points
We made it easy to use your rewards. Every time you order, you can choose to make either a one-time purchase or you can subscribe.
Subscriber Perks, Explained
Curious about those VIP perks only available to subscribers? Check 'em out!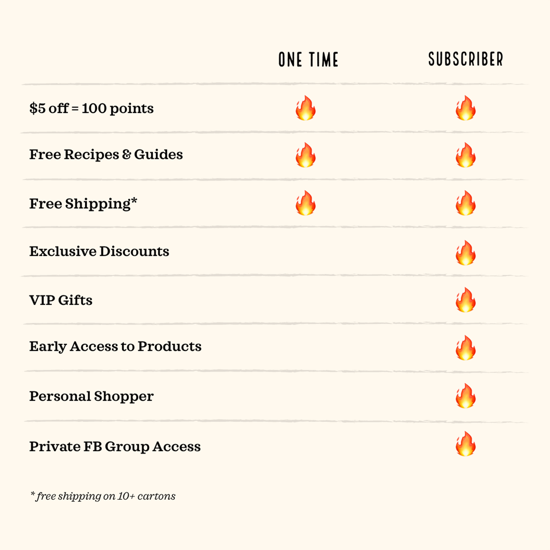 Join Now
Loyalty Program FAQs
1. Why is Kettle & Fire's Loyalty Program so great?
It's a win-win-win: The more you sip, the more you save…so you can sip even MORE! Our program is specifically designed to make your daily bone broth habit convenient and easy. (Consistency is key when it comes to reaping all the health benefits.) We reward you simply because you're choosing the best bone broth in the world - and the more you invest in your wellness journey, the more we help you continue to crush your goals. 
2. Is there a fee to join the Loyalty Program?
How does $FREE.99 sound? Our loyalty program costs absolutely nothing, and we'll never charge you a membership fee to sign up or for staying on board. Ever. In fact, you get more savings and perks the longer you're with us - and we'd never sabotage a good relationship by making you pay extra.
3. Will my loyalty points expire?
You know the saying: if you don't use 'em, you lose 'em! If there is no activity in your account, your points will expire after 1 year (365 days) from your last purchase. Every order you place extends the expiration date of all your loyalty points, so stay stocked up and keep your points stacked!
4. What is the Personal Shopper perk?
Get your very own Personal Shopper when you subscribe to 13 cartons or more!  Before your next renewal order is placed, a member of our team will text you to help you customize your subscription exactly to your liking - and offer personalized tips.