Kettle & Fire Subscriptions: So Hot Right Now
Taking the Struggle Out of Monthly Subscriptions
Daily wellness requires consistency.
To make sure you don't run out of our body-loving bone broths and soups, get them delivered right to your door, every single month!
No

crazy contracts

No

weird cancellation policies

No

hidden fees
Get 20% Off
Sign Me Up
What our
subscribers get
20% off FOR LIFE* - for subscribers only

Free Shipping - 12+ carton minimum to receive this subscriber perk

Your Broth, Your Way - change, add, cancel anytime.

First Alerts & VIP Access - new products & promos

VIP Access & Perks - gifts, merch, exclusive community
Get Started in 2 mins
*What does "for life" mean?
By definition, it's "til death do us part." But that's a little dark, so we'll just say "it ends only if you decide to leave us as a subscriber forever." (sad face)
It takes 2 minutes to get started
Simply choose from ANY of our bone broths or bone broth soup flavors, and then select "Start Subscription"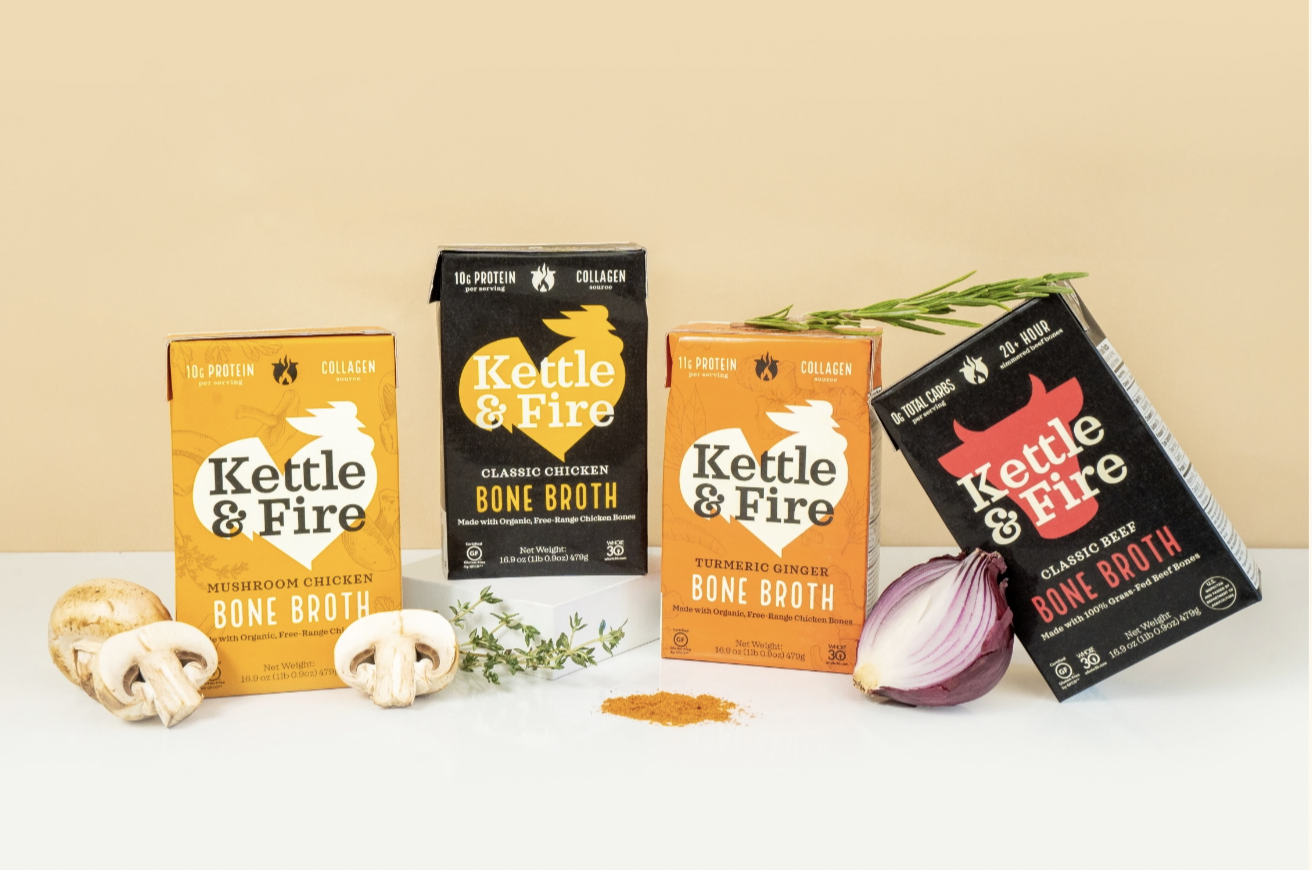 Bone Broths
Start Subscription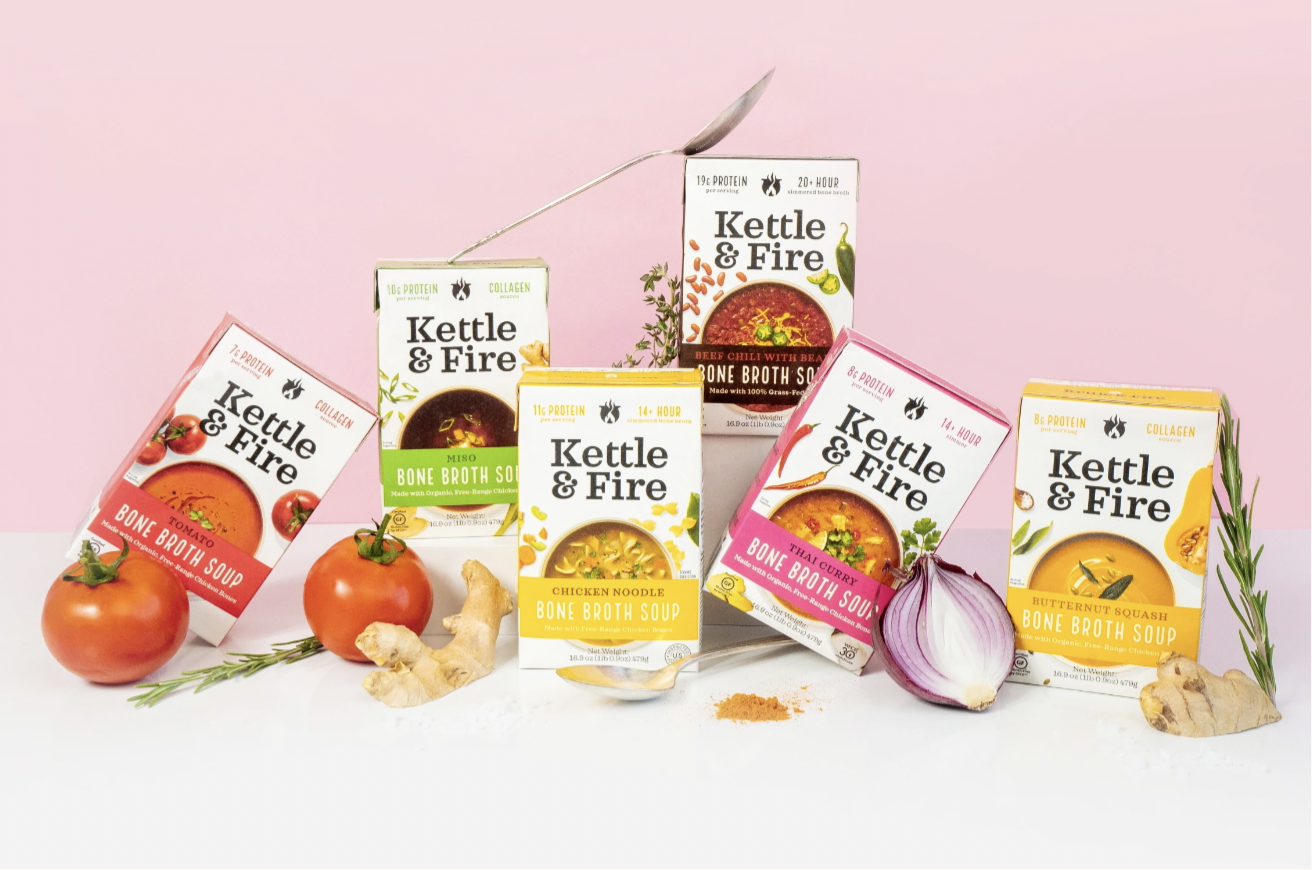 Bone Broth Soups
Start Subscription
If you're still unsure, check out these comments from our happy sippers!
Still the best bone broth out there!

I have tried bone broth from all the stores in this area, Sprouts, Trader Joes, Vons...but Kettle and Fire is the most tasty and has the best protein quantity. So many of these start with the ingredient Beef stock, water. etc...Helps improve skin too...
Beef Bone Broth

Great taste and superior quality make this bone broth my go-to as a compliment to my Keto/Fasting lifestyle.
Soul Soothing Nourishment

All the hype for Bone Broth is absolutely warranted, at least if you're referring to Kettle and Fire. I love having a little sea salt, lemon mixed into an evening cup. Helps me sleep better, and the GI wakes up a little happier in the AM.
It makes me feel great!

Just after 2 days I feel that I have more energy. The lower sodium is best for me. I love this product of Kettle & Fire.
I like this one best of all!

Best beef bone broth around! I like to add sliced fresh mushrooms and a handful of chopped scallions ~ delicious!
Cathleen K.

Verified Buyer

Love Kettle & Fire

Love Kettle & Fire bone broth. I use a lot of broth for gravies, soup, stews and other recipes. Thank you for providing me with bone broth that is extremely healthy.
What if I change
my mind?
Mix It Up!
To keep things interesting, you can swap, add, and customize your subscription any way you see fit!
We'll even give you recommendations about flavors you might like, or alert you to new goodies FIRST, so you can get the Subscriber VIP jump on everyone else.
No-Hassle Cancellations.
We care about your wellness journey - and want to keep you with us forever - but we get it: life happens, things change. We just want you to be happy and healthy!
Better Broth for
Better Living
Give Yourself the Gift of Daily Wellness.
Protein to keep your body & brain fueled.

Collagen to help your skin look and feel rejuvenated.

Other nutrients to support joint mobility, muscle recovery, anti-inflammation
You deserve the calming, soothing effects of everyday sips. You deserve the best bone broth the world has to offer.
Subscribe & Sip