What's your bone broth type?
Answer a few short questions & find out instantly which one can help you reach your goals!
TAKE THE QUIZ
Personal Shopper

Discover new flavors you'll love.

Skip, Pause, Swap anytime

Pause, cancel or add to your order by text

20% off for life

Cha ching! Good for your health and your wallet.
Start Subscription
Made by world- renowned chefs.
Only clean, real ingredients. No B.S.
18 mouth-watering flavors.
Over 20,000+ 5-star reviews.
Why Kettle & Fire?
30 Day Money-Back Guarantee
Free shipping.
Promotes a healthy gut
With amino acids like glycine.
Promotes youthful skin
Most collagen of any broth.
Take 20% off your order
When you subscribe monthly.
How It Works
Subscribe for better benefits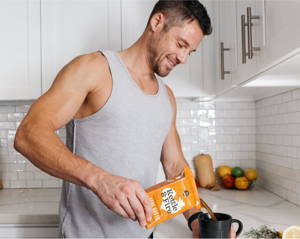 Pause or cancel anytime
We make it easy to manage your order from any device. You can pause, cancel, or change the flavor of any product—you're in control.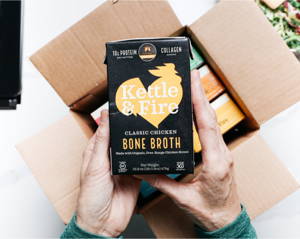 What You Get
Bone broth made with grass-fed bones
We slow simmer grass-fed beef bones or organic chicken bones for up to 24 hours. This is enough time for the nutrients, collagen, and amino acids to soak into the broth.
Soup made with bone broth
We make healthy (yet delicious) bone broth soups that contain collagen to support your skin, hair, joint, and nail health.
Responsibly-sourced, quality ingredients
We source beef and chicken bones from farms who raise their animals without any added hormones or antibiotics.
Recyclable packing
Our packaging is made from natural and renewable raw materials. And with just a 5-minute simmer time, you can be sipping and smiling fast.
Save more than 10%
When you order our collagen-rich broths and soups
View Our Products