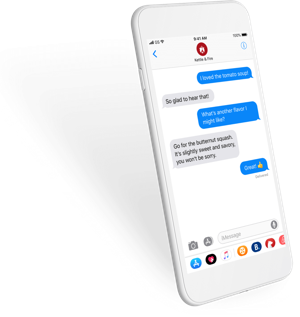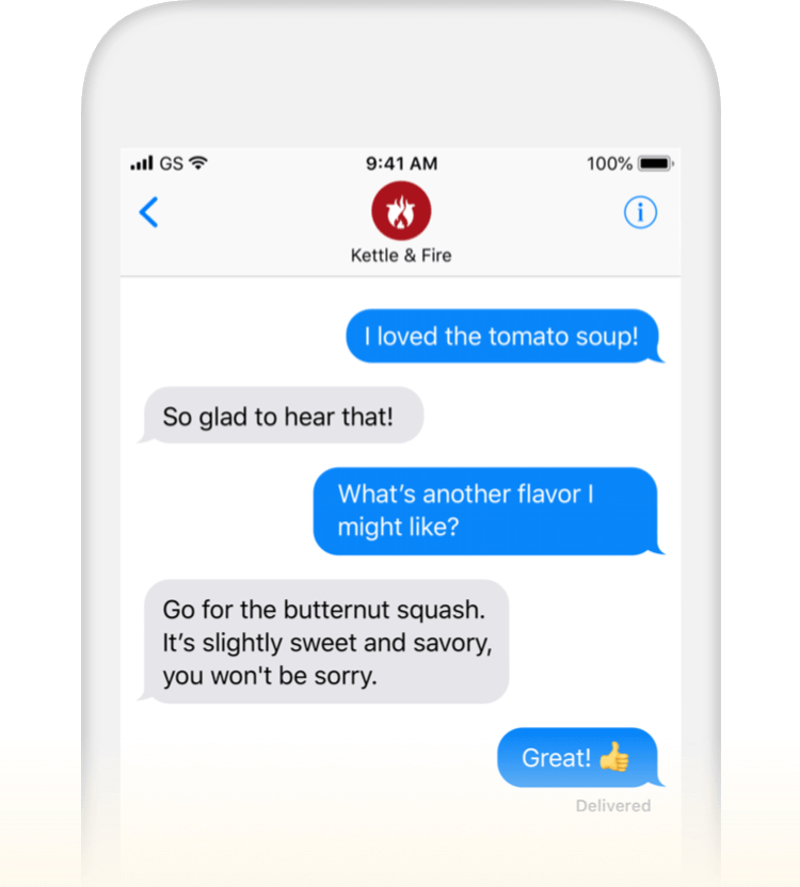 Sip Today.
Save Time & Money.
20% OFF six of our best-selling broths and soups right now, plus 20% off any order as long as you are subscribed!
What is a Kettle & Fire Membership?
A 20% discount on all our products. (Yes, all.) Plus, priority access to new product launches, as well as a personal shopper in your pocket!
The membership is FREE when you order our best-selling variety pack and become a subscriber today.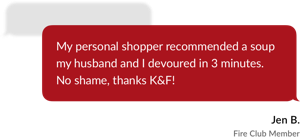 As a Kettle & Fire Member, you'll have a Kettle & Fire personal shopper in your pocket to recommend new flavors, help you make changes, AND you'll get the 20% off discount on any subscriber order.
How It Works
Try Our Tasty Soups & Broths Today
We'll send you six of our best-selling, best-tasting products (see the bottom of this page for the delicious details.)
Try Them All
See which ones you like. Order more by text, or have your personal shopper recommend other flavors to try — we have over 15 of them.
Stay Stocked Via Text
Every month, we'll send you a text before your order so you can try something new, pause orders for vacation, or make any other changes.
Manage By Text
Your personal shopper, plus other free resources are only one text away.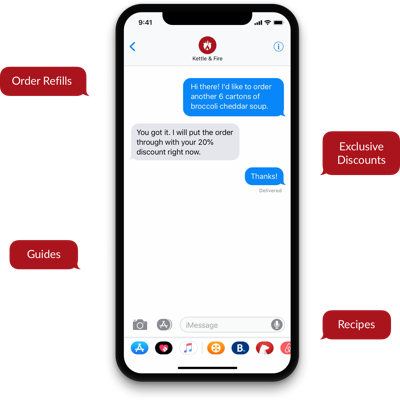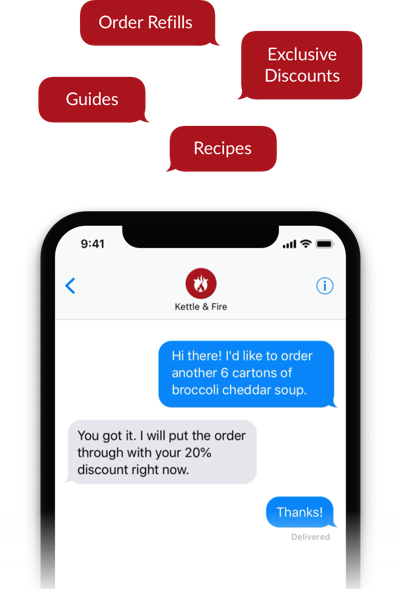 Membership Benefits
New Product Launches
Get access to our newest products before everyone else.
Member Facebook Community
Share meal ideas, morning routines, wellness hacks, and more with other members.
Monthly Recipes To Your Inbox
Receive our newest tasty recipes (and gorgeous photos) with step-by-step instructions every month.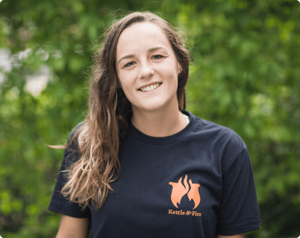 Personal Shopper
Never wonder what to try again. Your personal shopper can hand-pick soups or broths that you're sure to love!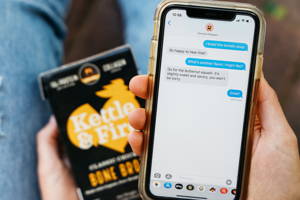 Manage By Text
You can manage your entire Membership via text. Questions, re-orders, and more!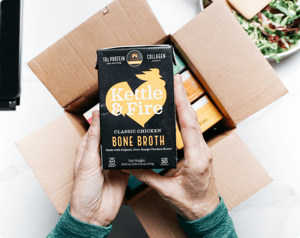 20% Off Forever
Save anytime you want — no more waiting for sales or discounts to come around.
What You Get Today
A Special Offer + Your Personal Shopper
New Member Variety Pack
Price: Original price before discount $49.44
$39.55
20% Member savings applied
VARIETY 6 PACK INCLUDES: Our best-selling grass-fed Beef Bone Broth (2 cartons), creamy and veggie-filled Broccoli Cheddar Keto Soup, velvety smooth Butter Curry Keto Soup, hearty and filling Mushroom Bisque Keto Soup, & Organic Turmeric Ginger Bone Broth.

BENEFITS OF BONE BROTH: Delicious collagen your body will love in sippable (or slurpable) form! Enjoy everyday for immune function support and to promote overall health.

A MEAL BY ITSELF: Can be used as a meal replacement for weight loss/intermittent fasting or as a delicious go-to for those busy weeknights.

PERFECT FOR ANYONE: Gluten-free, Dairy-free, Non-GMO, Paleo-friendly, Keto-friendly, and Whole30 approved.
22,351+ Reviews
Still the best bone broth out there!

I have tried bone broth from all the stores in this area, Sprouts, Trader Joes, Vons...but Kettle and Fire is the most tasty and has the best protein quantity. So many of these start with the ingredient Beef stock, water. etc...Helps improve skin too...
Beef Bone Broth

Great taste and superior quality make this bone broth my go-to as a compliment to my Keto/Fasting lifestyle.
Soul Soothing Nourishment

All the hype for Bone Broth is absolutely warranted, at least if you're referring to Kettle and Fire. I love having a little sea salt, lemon mixed into an evening cup. Helps me sleep better, and the GI wakes up a little happier in the AM.
It makes me feel great!

Just after 2 days I feel that I have more energy. The lower sodium is best for me. I love this product of Kettle & Fire.
I like this one best of all!

Best beef bone broth around! I like to add sliced fresh mushrooms and a handful of chopped scallions ~ delicious!
Cathleen K.

Verified Buyer

Love Kettle & Fire

Love Kettle & Fire bone broth. I use a lot of broth for gravies, soup, stews and other recipes. Thank you for providing me with bone broth that is extremely healthy.